Hi once again everyone, I am back for a review about an interesting tool called Jaaxy.
The Jaaxy Review
If you are not familiar with Jaaxy its one of the better keyword tool and I am gonna cover everything you need to know about it. I am gonna give you a walk-through and show you the interface of Jaaxy, all the features that I am gonna discuss in this brief review.
At the end of this review hopefully you will have all the information you need to decide whether its something that you can utilize and enjoy just as much as I have.I will tell you right of the bat if you're short on time reading this review, you can sign up for Jaaxy absolutely free.

They will give you 30 free searches, you can try the tool out with no obligation to upgrade your account to any other features, no credit card required. If nothing else happened there, take the free trial and evaluate it for yourself without that you might be charged.
What is Jaaxy?
Jaaxy is a web-based keyword tool. As long as you have an internet browser, as long as you have internet connection, you can use Jaaxy from anywhere in the world. So, what I really like is that its not something that you need to download to your computer and that's gonna slow your computer down. Its a very fast tool that processes
information rather quickly.
Jaaxy is created by Kyle and Carson, and this guys are also the co founder of the Wealthy Affiliate Program.
Jaaxy vs Google Keyword Planner
Most Keyword tool on the market relies solely on Google Keyword Planner, the keyword planner is effective but you may have noticed they have changed some things recently and a lot of people just haven't figure out how to best utilize it.Namely when I talk about changes the keyword planner no longer gives you the exact search quantity per month of a particular keyword. They used to do that, But now, unless you have an account and spending money using the Google Adwords Program, you will not be able to see these information.
Data from Jaaxy
Jaaxy does not just rely on the Google Keyword Planner, they pull up data from Google, Bing, Yahoo and a number of other search engines that have realtime data. And it tells you the exact search estimate based on their internal algorithm. Let us talk about some data that you are gonna get from Jaaxy and again these features are gonna get more sensible when you will be able to try it with the free trial afterwards.

You can search on Jaaxy a couple of different ways, first by using a particular keyword phrase or you can search by dropping in a URL of your website or competitors website in the keyword search bar and it is gonna bring back the relevant keywords from the URL that you typed in.
Jaaxy Analyzes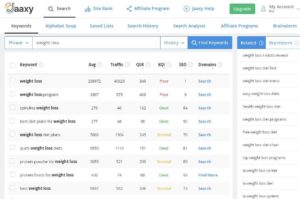 – average number of monthly searches for any particular keyword that you dropped into Jaaxy Search Bar.
-estimated traffic result
– number of competing websites.
The image below is basically what you can expect if you
type in a keyword into Jaaxy.
Average Monthly Search – Estimated search that the keyword gets each month.
Traffic- how much traffic you can get if you landed on the first page of Search engine.
QSR – Quoted Search Result will show you how many particular websites are competing for the keyword that you are trying to rank for. And this is a true representation of how much competition you really have for the keyword.
SEO score – the higher the score the better and easier for you to rank in that keyword.
KQI – Keyword Quality Indicator, is an indicator which is almost like a stop light.
-Green for Great Keyword Quality, this is a thumbs up. It means that the keyword has low competition and it is gonna be a lot easy for you to rank for.
-Yellow is Normal,it is not so competitive but you may want to think twice about using it. It is worth going after
-Red for Poor or the no-go keywords that you really want to stay away from because it going to be very competitive and hard to rank for.
Usually the one in Red KQI are those paid keywords to be number one on Google.
Domains column- this column is gonna show you if there is a domain name, exact match domain available for your particular keywords in the search. Which can also be profitable if you are flipping domains.
Save Keywords- you can save your list of keywords in Jaaxy which you can sort by a particular file name.
Search History- you can track the keywords that you have searched in the past few days. Say you have keyword that you forgot to save on your Saved List, then you can go back and check your search history.
Site Rank Tracker – You can put in particular keywords and the URL that you want to track and it will bring back the result whether the URL is ranking for that particularkeyword that you put in.
Alphabet Soup Feature- is essentially a way to find unlimited keywords. It will give you variety of keywords plus letters a-z and will work its way down the entire alphabet until I have variations on my keywords and pretty much everything I need in regards each particular keyword that I put in the search.
Example: I am searching for this phrase "weight loss" as shown above.
With Jaaxy, you can quickly see how you can come up with an infinite amount of keywords just from the related searches, just from all the relevant terms that Jaaxy has in its data based. It is very thorough keyword tool I think you will really like it as I did..
So again, if you think you have seen enough and you want to sign up for a trial, you can try it here.

If you have any questions about using Jaaxy, feel free to
comment below and I will be happy to help you.
Note: Feel free to use the details on images shown above. At the time of writing those are the stats for the following keywords.