---
Creating a Website is not as complicated as it was 10 years ago like increasing website traffic is not as hard as it is nowadays.
A long time ago, creating website is difficult that you have to code every webpage yourself or you can choose to spare yourself from the hassle and pay someone else a wad of cash to do it for you.
There are three things that you need to put up a website one is a Domain Host, second a Webhost, and lastly is your commitment.
If you have these three then you are all set for success!
Choose Your Domain Name
In choosing a website name, make sure that it will be brandable enough so you can freely work around with it.
For instance your niche is all about health, you can name your website as
– healthdirect.com
– healthdoctor.com
Don't name your site www.backpain101.com if you are about to put a content about diabetes or kidney disease on it.
Though naming your website after your name is fine (www.johndoe.com), I wouldn't really suggest unless you have a good number of following already.
Now that you have come up with a website name you need to check if its available and have it registered in a domain registrar.
Here are some of Domain Hosting Sites:
Namecheap
Hostgator
Whois
1and1
Godaddy
There are a lot of other registrars out there which you might want to try. I personally use Godaddy for most of my sites and but I also have other domain on other registrars like Whois.com.
Godaddy does offer discounted domain for every webhosting service you buy (at the time of writing) so you might want to consider.
Since we are already talking about webhost, you will need this for your website to be running completely.
If you are still confused with the difference between domain host and webhost, domain hosting is like registering you business name to a registrar, therefore it is just a name that you have not an entire website yet, while webhost is like renting a space in the web for all your content to be visible online.
I mentioned that setting up a website is not as hard, well yes.. you can literally do it in 10 minutes or less. Most webhost nowadays are WordPress ready that means you can have your website up and running in a few clicks.
How to Rank website in First Page of Google?
Now that you have the website in place, you will be working on getting traffic to it.
The best way to boost your website traffic is to crawl its page ranking in every search engine especially Google. But how does it work?
Content is the bread and butter of a website. Though Google's algorithm can be unpredictable at times, one thing remains consistent, fresh unique content is a jewel in Google search engine's eyes.
How do we exactly rank a webpage in Search Engine?
-Write a quality content
-As I stated above your content must be unique.
-Write Content with the intent to help your readers.
If Content is the bread and butter of a website, keyword is the soul of your content. It is an important factor to choose the right keyword to be able to rank in search engine.
For you to easily rank in Google choose a keyword that has a low competition, but high search volume.
Since keyword is an important element in writing all my content I am using a particular tool in choosing the keyword to use.
The tool is called Jaaxy. It has served its purpose when it comes to keyword research and has helped me a lot to be successful in most my websites' content. Jaaxy has a free trial, which you can try here.
You can also use the keyword planner of Google though it won't have any functionality the other Paid keyword services have.
The diagram below show how to use Jaaxy in choosing for keyword
that you could use in your content.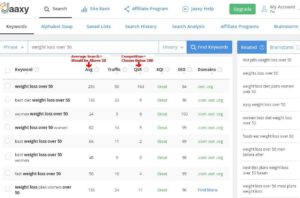 Ranking your website in the first page of Google is quite similar how it is done in the past. Make sure your website focuses in one niche first.
Post content on a regular basis. And make sure to respond on your visitor's inquiry and comments.
I was once a newbie myself and a being in a premium community helped me a lot to achieve success online. To know more on how to achieve online success, check out my blog here.
If you have questions, feel free to ask through the comment box below and I will be more than happy to assist you.