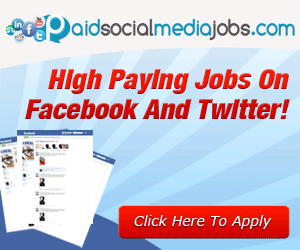 Social media management is slowly getting the recognition of being a valid component in any company's marketing department. Connecting with target clients through social platforms is a way for companies to brand themselves and maintain engagement. However, a majority of employers tend to outsource professionals to get the job done. This is the best way to cut down on costs. Besides, any work relating to social media has not been recognized as a full-time company position. This is where paidsocialmediajobs.com comes in!
What Is Paid Social Media Jobs?
Created by Annie Jones, Paid Social Media Jobs is a program that involves assisting companies with their social media efforts. This includes the creation, design and overall management of social media accounts. The program claims that it offers somewhat of a centralized marketplace that works well in favor of the companies as well as the freelancers.
Looking to learn more about this new emergence? Here is the ultimate paidsocialmediajobs.com review:
What to Expect Inside the Program
Before embarking on your new found passion for social media marketing, Paid Social Media Jobs takes the time to teach you about the process and what should be expected. There is an exclusive 4-module training program that will teach you how to create accounts, attracts followers, connect with social networks, selling yourself to clients and much more. This training will enable you to tackle the most advanced jobs that are listed on the platform.
The modules are broken down as follows:
Module 1: Understanding social media clients
Module 2: How to be a social media manager
Module 3: Introduction too social media management
Module 4: Advanced training program
After the training, the program guarantees that you will be able to:
 Convince your clients of your skill set
 Demonstrate how you can fulfill the company's requirements
 Enter into a legally binding contract with your prospective client
 Perform the necessary billing for your services rendered
How Does PaidSocialMediaJobs.com Work?
Once you sign up to paidsocialmediajobs.com, the program will offer a day trial pack for $1. This will enable you to have a first-hand look at the site and gain a proper understanding of the program. Once the trial period is over, you will sign up membership at $77.
Pros
There are many paid social media job reviews that clearly highlight all of the advantages that come with signing up to this program. These benefits include:
 The opportunity to better your skills
The social media is consistently changing. Therefore, you will require the right skills to work with different clients and meet their demands. The training program that you undergo when you sign up for paidsocialmediajobs.com will better your skills as a professional. The program also offers tutorials that will give you a unique learning opportunity.
 Prepares you for challenges you may face
No one said that freelancing was easy. For many people, it takes a long period of time to get a good job. Paid Social Media Jobs is outright honest with all of its members. The program lets you know that making a good income may be challenging at first.
 One-time membership sign-up
Unlike other similar programs, Paid Social Media Jobs does not require constant membership renewal. A one-time sign up is enough.
Cons
Granted, Paid Social Media Jobs offers a way to establish a social media freelance career. However, the program comes with the following concerns:
 The jobs are offered on a temporary basis.
 It is very difficult to find jobs
 The jobs come with unrealistic goals, for instance, 4000 likes on Facebook within a week
 It is difficult to secure jobs without a professional background
 A legally documented agreement is required before working with a client
 Clients have to be chased for overdue payments
Is Paid Social Media Jobs A Scam?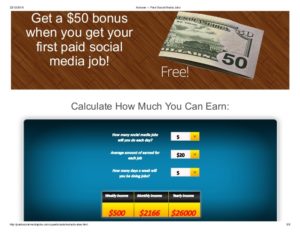 There have been many complaints among freelancers about paid social media jobs scam. They associate this with the fact that the concerns about the program outweigh the benefits that it offers. However, there are other freelancers who have succeeded and believe that the program offers realistic working opportunities. The only way to determine whether the program will live up to your expectations is by signing up and experiencing it as an individual.
Conclusion
Paid Social Media Jobs has offered a brilliant way of tapping into the social media market. Whether the program is a scam or not is something that is yet to be decided. Even so, there is one verified truth that is associated with it; it offers the opportunity to learn real skills that will be important in a freelancer's career for many years to come.