---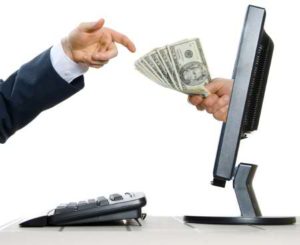 Ever wonder how people make money online? Well, you have come to the right place because the answer is right about here.
Maybe you have heard or read this statement a lot of times but let me tell you again there are thousands of ways on How To Make Money Online From Home.
And yes, it's true!
I myself am into multiple ways that I personally use to earn extra paycheck from home.
I am going to share you couple of ways and most likely all of what I know in this website. So better stay tuned!
Best Way To Get Started With Affiliate Marketing
---
What we are going to focus on right now is making money with affiliate marketing.
What is affiliate marketing? Well simply put, it is selling other peoples product and in return you will earn a commission out of that sale.
Most products now offers affiliate programs, the moment you sign up to be an affiliate of a certain product, you will be given an affiliate link.
Affiliate Links are unique for each affiliate and this is an identifier that the sale came from a certain affiliate.
You can join an affiliate network with collection of products that you can promote. Example of this affiliate networks are Amazon.com , Clickbank.com , JVZoo.com and many more.
The Diagram below shows how exactly affiliate marketing works: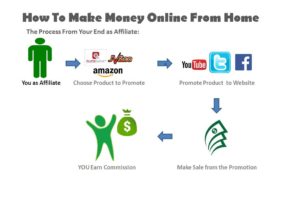 The process on Potential Customers' End:
---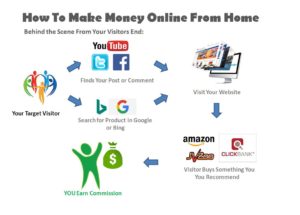 Looks easy enough for you? It would be yes and no. And you will know why later, so please keep reading.
Making Your Affiliate Links a Head Turner!
---
For now let us work with How to make your product visible to the audience. How are you going to be noticed? This my friend have the short path and the longer path.
Want to hear the shorter way first? of course you do! Who doesn't, I did too. So here are some of the many short term ways for you to be able to make money through affiliate marketing:
Short Term Method:
1. Post your affiliate link on Facebook – Join groups that are relevant to the product that you wanted to promote.
Eg. You want to promote weight loss product, you can join Facebook groups related to weight loss.
Include some testimonials of it or quote it from the products' website
Note: Be careful with posting affiliate links on social media esp Facebook since they have become strict with affiliate links.
2. Post Comment on Youtube videos – go to Youtube, search for videos relevant to product you are promoting. Choose the videos with high daily views over 200 per day is ideal. Post a casual comment and include your affiliate link.
3. Post Comment on Blogging sites – same idea above search for blogs relevant to product you are promoting. Post a casual comment and include your affiliate link.
4. Promoting Using paid traffic– PPC advertising is very effective to earn money fast. For this method Bing is the most recommended platform since Google is much expensive. Bing is also more affiliate friendly. Other Search engine where you can advertise your product is through 7search.com
A more thorough discussion about Pay per click Advertising here.
Most people think that making money online is often a get rich quick scheme.
Most failure from newbies come from the fact that they are easily attracted to promises that "in a click of a button you can already sit back relax wait and chug all the money that'd would come in."
Well, I had been that person before. Believe me when I say I have tried almost every get rich quick software offered online. Most of it did not worked for me. I opted buying online courses instead.
Then I realized affiliate marketing is easy but the hard part is taking action and waiting for the result. Patience is necessity.
You see, these faster and shorter ways to making money with affiliate marketing is not so passive at all. You have to do it again occasionally since your link will not always be there.
Imagine this, several discussions will be posted in a day for an active group Facebook group, overshadowing yours in the process, floods of comments will keep on coming for YouTube videos with high viewing volume, your PPC ads will be taken out if you ran out of budget. Most faster ways to make money online are also short term.
So what choice do you have but to try the longer path.
---
If you want to be successful with affiliate marketing, if you want a truly passive and residual income, you need to work your ass off hard for that matter. To me the most important to have in building a successful business online is having a website, establishing a Youtube channel or creating your own Blog series.
To know more about these and How To Make Money Online From Home visit this post.
If you have questions feel free to drop your comment below and we will get back to you as soon as possible.